by Daniel McCarthy /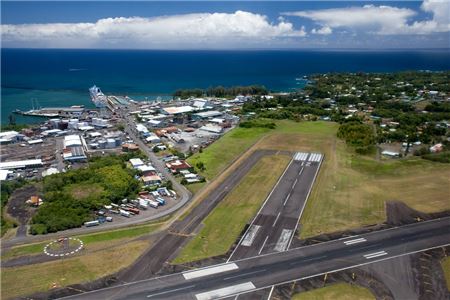 Hawaii's Kilauea Volcano, which first made headlines when it erupted and forced 1,500 evacuations on Hawaii's Big Island earlier this month, erupted again on Thursday, sending smoke and ash 30,000 feet in the air.
The eruption was the latest in a series that have plagued the area since that first one on May 3.
According to the U.S. Geological Survey, a fissure was still actively spattering on Thursday afternoon and volcanic gas emissions were still high near the volcano. Officials said they expect more volcanic activity over the coming days.
Related Articles
Despite the news, travel companies operating on the island and tourism authorities have said that the islands are still safe for both residents and visitors.
"There is absolutely no reason for visitors planning a trip to the Hawaiian Islands to change or alter their leisure or business travel plans," the Hawai'i Tourism Authority said on its website. "None of the Hawaiian Islands are affected by the Kilauea volcano except a remote area along the Lower East Rift zone on the island of Hawai'i's east side, Kilauea Summit and surrounding areas."
Airport and airlines
On its website, the Hawai'i Tourism Authority said that all flights "into the Hawaiian Islands are operating normally." FlightAware shows that most flights are still operating fairly normally in and out of both Hilo and Kona airports.
Hawaiian Airlines has extended its change fee waiver for those airports, which was issued earlier this month, until May 31, giving anyone with tickets issued on or before May 4 to change their flights for new ones scheduled for no later than June 7.
Hawaiian is also allowing changes to origin and destination cities without change fees, though fare differences will apply.
American Airlines also extended its change fee waiver for anyone scheduled to travel through May 20. Travelers can change their ticket to travel through May 27. It is not allowing changes to origin or destination cities.
United Airlines' change fee waiver is now extended through May 25. Anyone changing a ticket will get change fee and fare differences waived as long as travel is between the same cities and original cabins.
United is also offering changes to tickets scheduled after May 25 without a change fee, though fare differences will apply.
Cruise lines
Princess Cruises is the latest to skip a call to the Big Island because of the volcanic activity. On Thursday it announced that Sea Princess would skip a call at Hilo on Friday, spending the day at sea instead.
Earlier lines to cancel calls include Norwegian Cruise Line, which skipped Pride of America's call at Hilo this week, and Royal Caribbean's Radiance of the Seas, which skipped its call at Hilo last week.
Hotels
According to Hawai'i Tourism, "all accommodations, activities, and attractions through the Hawaiian Islands are operating normally, with the exception of those in the area affected by the volcanic activity."
The area southeast of Kilauea volcano's summit is a rural part of Hawaii island, far from any major resort areas. The closest resorts, in Kona and on the Kohala coast, are miles away on the west side of the island and are still operating normally.
National Parks
Most of the Hawai'i Volcanoes National Park, which is home to the Kilauea and Mauna Loa volcanoes, is closed until further notice. The Kahuku Unit, which includes the Park's 9-mile scenic drive, cinder cone, and hiking trails, is open.